reduction in MTTD and MTTR
SecOps cut critical Mean Times after Security Orchestration and Response is deployed.
great actionability
SecOps increase exponential growth in security actionability
of alerts are missed
without SOAR the SOCs can be overwhelmed by the proliferation of alerts
Security Orchestration and Automation Explained
Security orchestration and automation capabilities provide analysts with the context to determine if, when, and what action is needed next in an incident response process. Security automation platforms leverage features like enrichment, correlation, case management, dashboards, reporting, and playbook builders to increase the effectiveness of SecOps teams.
Security Orchestration
The integration of disparate security tools necessary to facilitate automated actions for effective security operations center (SOC) workflows.
Security Automation
The ability to execute a sequence of tasks related to a security workflow with limited human intervention.
Incident Response
The security operations process that centers around initiating the right security workflow relative to expert analysis of a threat. 
Multiply the Force of your SecOps Team
Learn how SOAR platforms make it easier for security engineers to build effective SecOps processes and save analysts time. It's important to select a SOAR that is flexible enough to fit your team structure, security processes and unique integration requirements.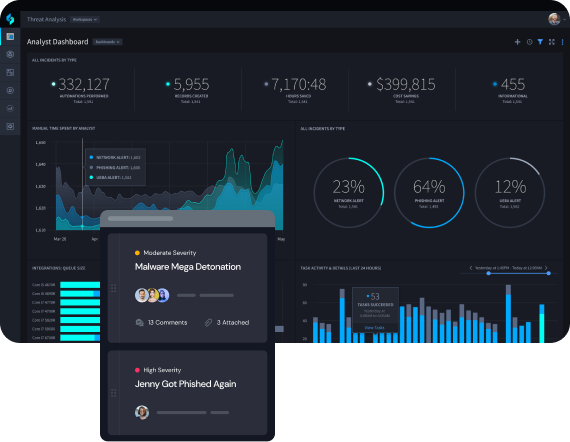 How SOAR Improves Security Operations
SOAR platforms provide SOC teams with a force multiplier so that they can scale their SecOps capabilities without burning out their existing analysts or needing to hire more people. Security teams who deploy a SOAR gain several key capabilities that help speed their mean-time-to-resolution.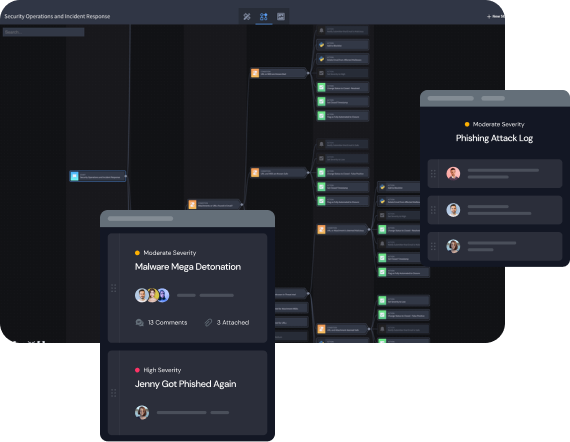 Speed and Streamline SOC Workflows
Manual alert triage and investigation processes cannot keep pace with the pace of new threats as the attack surface rapidly expands. SOAR platforms provide security teams with the ability to automate unique incident response processes while keeping humans-in-the-loop for critical decision points.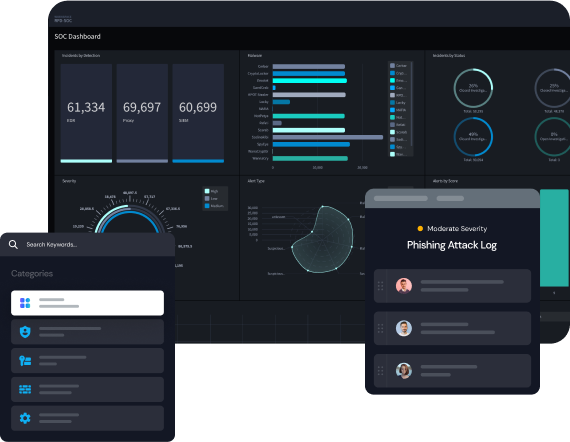 Contextualize Incident Data
Most enterprise security teams have 40+ tools, each generating its own series of alerts. SOC analysts need a centralized management console to serve as their system of record so they have the context needed to quickly see the who, what, when, and where incident details.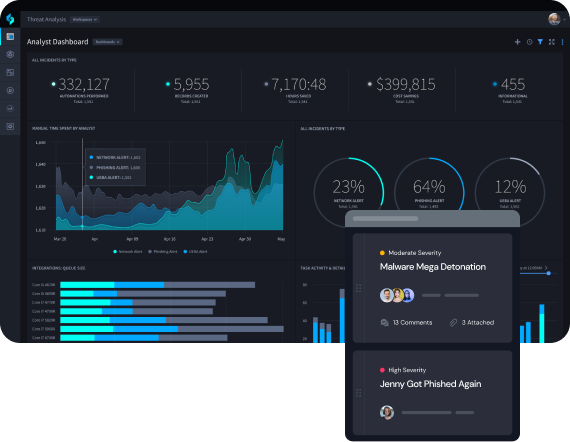 Connect the Dots Between Siloed Tools
One of the most common challenges that security leaders face is connecting their siloed people, workflows and telemetry. SOAR platforms provide extensive libraries of out-of-the-box integration
Ready to Get Started?