How Actionable Insights Works
Actionable Insights
Dynamic case management and collaboration hub
Highly composable dashboards
Real-time reporting for CISOs and stakeholders
Quantify Security Outcomes
Effortlessly measure KPIs like MTTD, MTTR, MITRE maturity and ROI in order to assess the efficacy of your SecOps processes.
Ensure Compliance
Enforce continuous compliance with visibility and automated incident reports for leaders and cross-functional stakeholders.
Drive Process Efficiencies
Reduce the time spent on manual investigations and ensure unique business processes are repeated.
Build Stronger Teams
Improve staff effectiveness and decrease human errors with streamlined case management. Know when analysts are burned-out or need training.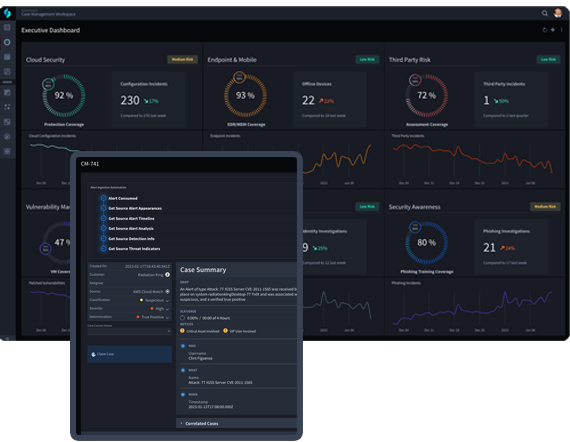 Dynamic Case Management
Analyze and enrich incident data in real-time so that analysts can spend time making decisions instead of gathering information manually. This helps analysts institutionalize unique business processes while ensuring that compliance standards are enforced.
FEATURES
Automated Detection Analysis
Enrich case data to provide analysts with the contextual scope like the who, what, when and where details needed for intelligent incident response.
Collaboration Hub
Your central place to interact with individuals in the SOC. Use inline chat, evidence lockers for artifacts, and integrations to internal communications tools to bring humans-into-the-loop of automation.
One-Click Remediation
Trigger basic actions like disabling a user, isolating a host, or updating a block list without needing to be an expert in all SOC tools.
Highly Composable Dashboards
Swimlane Turbine's dashboards are populated by self-documenting playbooks to provide security teams with visual models to easily see actionable insights like MTTR, MTTD, ROI or where they need to reallocate resources to avoid employee burnout.
FEATURES
Alert Volume Timeline
Visualize historical records, other tools or observables across multiple business units to gain an end-to-end view of your security posture.
Analyst Burnout Monitoring
Prevent analyst burnout with visual resources that make it easy to see when analyst workloads are unsustainable or unevenly distributed.
MTTR Tracker
Automatically track your MTTR across all tools and processes in order to gain insights to improve your SOC program.
Real-Time Reporting
Turbine offers a low-code visualization studio which makes it easy for anyone to build custom reports. These reports can be exported on a scheduled cadence to inform CISOs or other stakeholders.
FEATURES
Scheduled Stakeholder Reporting
Reports can be generated in real-time or on a scheduled basis. They help pinpoint problematic areas within an organization's security posture so teams can easily analyze retrospectives and develop a counter strategy.
After Actions Report
A pre-built self-documenting template that collects post-incident activities from case management like incident summaries, remediation actions performed, and case timelines. It can be exported from Turbine and easily shared with internal and external stakeholders.
THE SWIMLANE APPHUB
See All of Our Pre-Built Integrations
I would recommend Swimlane to my peers, to all security operations departments and even to the C-level. It gives you a very robust look into the environment and gives your analysts the abilities to work efficiently within a single platform.

Jonathan Kennedy
Chief Information Security Officer

We use Swimlane as a central repository for all of our data coming in. We use it to automate all of our other tool stacks, to bring our tech into almost a 'single pane of glass' situation. That really allows them to work in one area – no one product, no one software – that keeps it easier for training, learning, and overall quality of life.

Zach Tielking
Chief Cyber Forensicator

Learn More About
Actionable Insights
Ready to Get Started?